Applications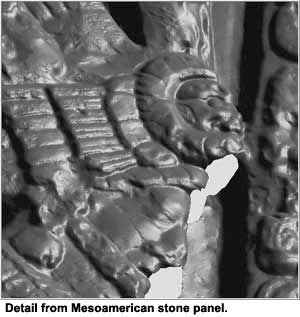 Epigraphy and Iconography - Scans conducted on Formative period carved monuments and Classic Maya Stelae and glyphic texts have demonstrated that these techniques can, in many cases, provide greater detail and accuracy than side-light enhanced photographs or line drawings. Close-range scanning techniques can greatly reduce traditional documentation problems experienced in the field. The results provide a 3-D model with variable lighting control that can be manipulated by the individual viewer to examine the objects in a virtual-view environment. The ability to extract and visualize greater detail from eroded, abraded, or exfoliated surfaces offers the possibility of improved epigraphic and iconographic interpretation and the enhancement of a collaborative environment. The documentation procedures being presented here are intended to augment other types of recordation, such as traditional line drawings and standard photography, to produce the greatest potential for understanding.
Education - The Mesoamerican 3-Dimensional Imaging Project can be utilized in the classroom by the instructor and students to expand the boundaries of academic possibilities. Please note these and other uses may require written permission from the authors.
Heritage Management - The database can be used to present interpretation and explanation to the public, for the enhancement of museum studies, and in assisting in the cataloging for improved management of collections. Other researchers and institutions with collected scan data can also include their visualizations here for broader dissemination and are encouraged to participate in this shared, collaborative environment.
Preservation and Protection - An accurate digital record of the artifact is preserved in the database along with complete photographic documentation. These non-contact recording techniques literally "time-freeze" the object for preservation and other future applications. The integration of our laser scanning techniques with geomatic (spatially referenced) data, such as Global Positioning Systems (GPS) and robotic total station surveys, for in-situ pieces and architectural features make it possible to compare, measure, and monitor any changes or alterations of objects and their exposed surfaces. This integration of survey techniques also allows the object to be 'located' and visualized in its actual position within the site or in a regional context and to be incorporated in a spatial Geographic Information Systems (GIS) database. These documentation phases can then be incorporated into management and conservation strategies. Pieces in museums and private collections can be "virtually" returned to their original locations through 3-D site reconstructions. Pieces that are broken and disarticulated, such as Tres Zapotes Stela 3, can be "virtually" reunited in its complete original form.
Replication - Through the utilization of digitized three-dimensional scan data, precise single or multiple copies of sculpture can be produced or modified, scaled up or down, mirror imaged, or reversed to produce a re-usable mold. The data can be exported to a five-axis router to create accurate three-dimensional forms for use in museums, sculpture enlargement, architecture, special effects, and displays in a variety of materials. Visitors and tourists could touch, photograph, and interact with objects without any risk of damage to the original, endangered materials.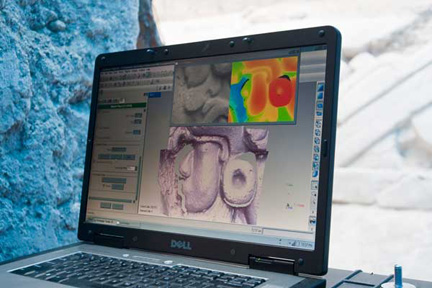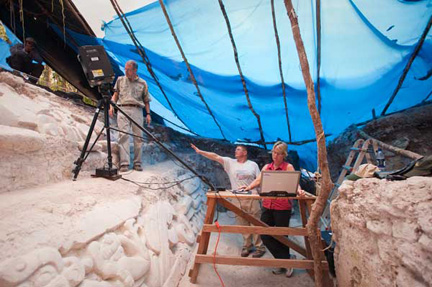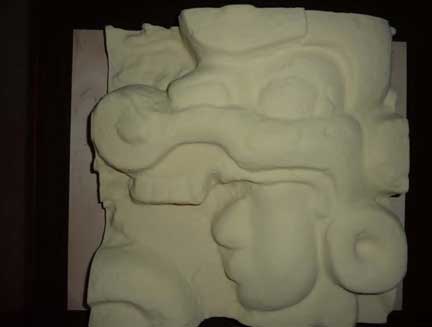 Documentation of the El Mirador frieze panel allows researchers to visualize the sculpture and replicate the piece for museum and interpretive display (Project in conjunction with Richard Hansen, Foundation for Anthropological Research and Environmental Studies).
For further information regarding any of these applications, please contact the authors.