WHO'S WHO IN THE CLASSIC MAYA WORLD
Peter Mathews

"Casper II"

An early king of Palenque (born AD 422, ruled AD 435-ca. 487)

PAL 002

Genealogy




Although we have no specifically attested relationships, the birth dates of the individuals involved indicates that "Casper II" was most likely the son of K'uk' B'alam I and the father of the probable brothers B'utz'aj Sak Chik and Akul Mo' Nab' I.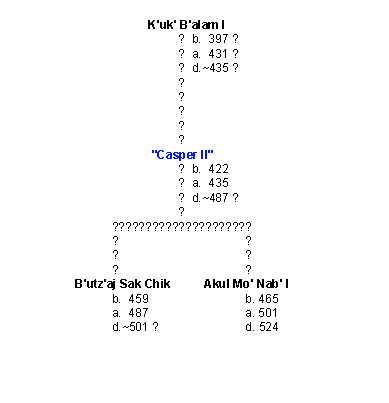 On the other hand, Karen Bassie-Sweet (1991:205, 261 note 9) has argued that "Casper II" was the earliest known Palenque king from the Classic period.