M3D Number:
M3D0090
Origin Site:
Takalik Abaj , Guatemala
Artifact Identification:
Stela 4
Artifact Type:
Carved stela
Artifact Medium:
Volcanic stone: Andesite (PNTA)
Location Information:
Department of Retalhuleu, Finca San Isidro, Terrace 5, Structure 24; moved to Finca San Isidro house
Country:
Guatemala
Chron Era:

Late Preclassic (Orrego Corzo and Schieber de Lavarreda 2001
Inscription:
Yes
Notes:
First reported by Bruhl in 1888, and rediscovered by Parsons in 1969, but original provenience unknown; glyphs present; similar style to stelae at Izapa.
Acknowledgements:
National Science Foundation Grant (BCS 0911078); Finca San Isidro
Credit:
Copyright © 2012 Doering & Collins, Alliance for Integrated Spatial Technologies, University of South Florida.


Prepared for and in Cooperation with

: Schieber de Lavarreda & Orrego, Proyecto Nacional Takalik Abaj, Ministerio de Cultura y Deportes, Direccion General del Patrimonio Cultural y Natural-IDAEH, Guatemala. For publication or other use of original drawings, photos, or scans permission must be requested in writing from the authors at AIST@usf.edu.
References & Background:
Bruhl, G. 1888; Cassier, J. and A. Ichon 1978; Chang Lam, E. 1991; Graham, J. A. and L. Benson 2005; Guernsey, J. 2006; Guernsey, J. 2002; Orrego Corzo, M. 1990; Orrego Corzo, M. and C. Schieber de Lavarreda 2001; Parsons, L. A. 1972; Schieber de Lavarreda, C. 1998; Schieber de Lavarreda, C. and M. Orrego Corzo 2002; Wolley Schwarz, C. 2001;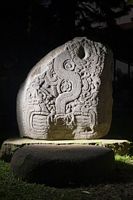 Click to view all photographs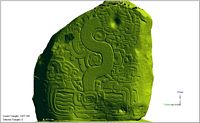 Click to view all scan images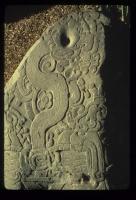 John Graham Historical Images